From November 6 to 8, 2017, researchers, youth, family members, health professionals, educators, policy makers, and all interested in partnering to advance research in brain-based developmental disabilities gathered in Toronto for our first national conference, the Brain-Child-Partners Conference 2017.
Co-hosted with Kids Brain Health Network, the Brain-Child-Partners Conference brought together 302 people touched by childhood neurological disabilities and, under the theme of 'Reciprocity', we listened, collaborated and exchanged, with the goal of positively impacting each other's work.
An Active Exchange of Ideas
The event programming was designed to encourage an open and reciprocal exchange of ideas, and we were thrilled to see this unfold! Active dialogue took place on topics such as advances in brain research, mental health, helping families navigate transitions, patient engagement, effective communication channels, the cooperation between basic and applied research, and so much more. View the full event programming here. Thank you to all speakers and participants for this lively and productive exchange of ideas!
Up-and-Coming Researchers
Young researchers and trainees presented their work, met and exchanged with experts in their fields, and took part in a poster competition. Congratulations to the Trainee Poster Award recipients:
Theme 1: Disease Modeling and Etiology
Awarded to: Jelena Popic, PhD
Postdoctoral Fellow - McGill University
"Metformin rescues impaired behaviors, dendritic morphology and downregulates ERL signaling in Fragile X Syndrome mouse model"

Theme 2: Diagnostic and Screening Tools
Awarded to: Zach Boychuck, MSc (OT)
Doctoral Student - McGill University
"Partnering with parents & primary care providers: Using consensus methods to determine the early signs that should PROMPT referral for diagnosis of cerebral palsy"
Theme 3: Interventions
Awarded to: Alicia Hilderley, MSc
Doctoral Student - University of Toronto
"Changes in sensorimotor functional connectivity following gross motor training for children with diplegic cerebral palsy"

Theme 4: Social - Community
Awarded to: John Aspler, BSc
Doctoral Student - Institut de recherches cliniques de Montréal
"What we say matters: Stakeholder perspectives on media coverage and public understanding of fetal alcohol spectrum disorder"

Theme 5: Partnership
Awarded to: Julia Hanes, BSc
Research Assistant - McMaster/CanChild
"Engaging Youth and Researchers: A collaborative video project to spread awareness on the #F-words"
National Visibility & Engagement
An active dialogue also took place outside of the meeting rooms, on social media and in post-conference publications. Read a few here:
See what people had to say on social media about our conference
It's time for Canada to measure up on kids with disabilities
(Toronto Star, November 12, 2017)
by Stephanie Dunn and Jennifer Zwicker
Some of my takeaways from the Brain-Child-Partners Conference 2017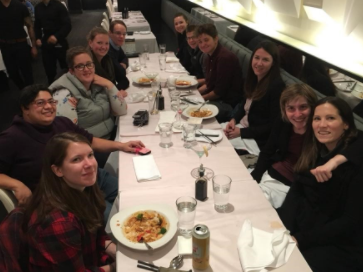 Reflections on our theme of reciprocity
by Kids Brain Health Network
We wish to thank all attendees for their active participation and involvement in our network. Because of you, our first national gathering was a resounding success!